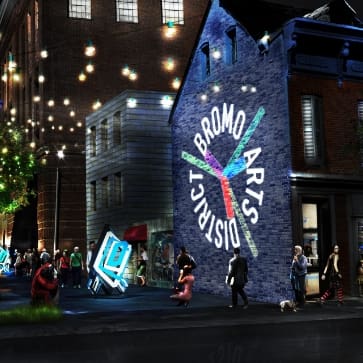 The Bromo Arts and Entertainment District creates a better Baltimore by supporting artists and arts organizations in a 117 acre area on the west side of downtown from Baltimore Street up Park Avenue, Howard Street and Eutaw Street to the junction of Read Street and Martin Luther King Boulevard. Learn more on their website https://www.bromodistrict.org/about.
Organizations in the District
Bromo Arts Tower
Hippodrome Theatre
Everyman Theatre
Maryland Art Place
Downtown Cultural Art Center
Le Mondo
Arena Players
Dance Baltimore
Kelly Walker Fine Art
Maryland Society For History and Culture
Current Gallery
Westminster Hall
Eubie Blake National Jazz Institute
Black Genius Art Show
Food in the District
Mt Vernon Marketplace
Ceremony Coffee
Central ( LGBTQ bar)
Cuples Tea
Vegan Juicelogy
Cajou Creamery
Gallery
Hanging around the District before or after the show?
The Bromo Arts District is home to many restaurants, bars, and hotels within walking distance of the theatre.