The gallery space at Everyman Theatre is a space to celebrate local artists and community.
By engaging with local artists, we extend the themes of our plays beyond the stage and draw direct connections to the city of Baltimore. Everyman is deeply invested in creating imaginative spaces for all artists to express themselves. Our gallery space is a hub of inspired talent through the lens of visual art.
Take the stairs by the Box Office or the elevator to the low level to visit our gallery space!

2023/2024 Partner

Bryan Robinson – Black Genius Art Show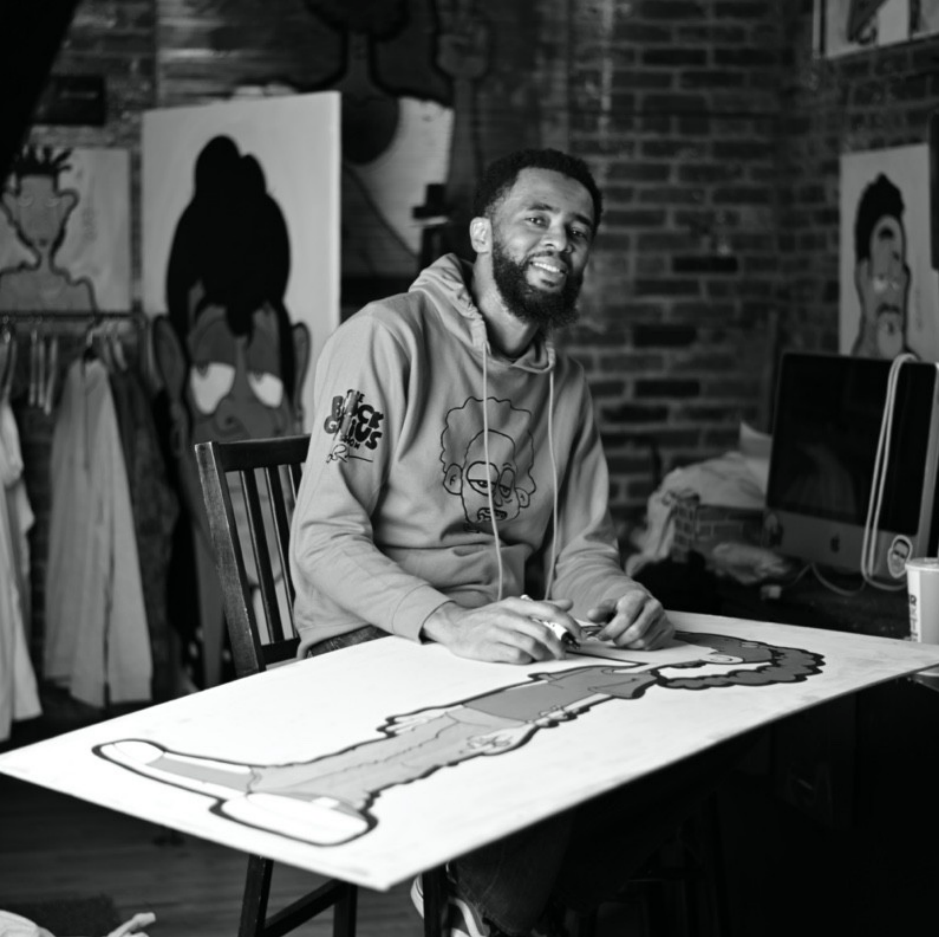 Bryan Robinson is an educator and multifaceted media artist born, raised and superhero'd in Baltimore Maryland. He has a background in film, 2D animation and Business Marketing. Robinson has been a visual artist for as long as he could successfully write his own name. He feels the blank canvas is just another portal to which his stories can be told. Robinson is a self taught artist who operates in "The Random." He compares his work to a mixture of the Mona Lisa and the morning cartoons of the 80s. Robinson is inspired from the works of artists like Emory Douglas, Jean Michel Basquiat, and Keith Haring.
Under the motto "Create Everyday", Robinson has over 200 original illustrations (acrylic/oil based paintings), a collection of wearable Garments based off of his unique characters and an assortment of animated projects in the works. Robinson currently works with school based programs, universities, youth groups, galleries, art initiatives and community based organizations throughout the states to further The Black Genius Art Show. In 2021, Robinson opened his first art showroom he labels Genius Guice Studios. GG is a hybrid gallery space that displays revolving art spreads, custom collectables, wearables and art incentives for youth and young adults.
Interested in a bite to eat or a craft cocktail before a show?
The Bromo Arts District is home to many restaurants, bars, and hotels within walking distance of the theatre.