We are proud to offer artistic skill-building for students as young as three and as old as ninety-nine! There is something for everyone at Everyman Theatre.

LAB
Join the creative experiment. Invest in your personal and artistic growth in this accessible and compassionate exploration of the artform.
Directing
IN-PERSON | January 23 – March 12
From text analysis to working with designers, to envisioning the world of the play, and rehearsing scenarios with actors, this class covers it all. With a healthy balance of lecture, discussion, and activation this class is designed to connect emerging directors with a sampler of skills needed to envision a full production.
Registration Deadline: January 16
Time: Tuesdays, 6:00pm – 7:30pm
Tuition: $385

Playwriting
HYBRID | January 13 – March 16
Calling all emerging playwrights. You have a story to tell and we want to ensure you have the tools and confidence to share it! With a special focus on dialogue and scene development, you will script clear and compelling theatrical moments. Peers will read work and you'll engage in a critical response process. Actors will join mid-way through the class trajectory to workshop the pieces. The class culminates in a final performance of work in the virtual space for family and friends, as well as, a recording of your work by professional actors.
Registration Deadline: January 6
Time: Saturdays, 3:00pm – 5:00pm
Tuition: $405
EMPOWER
With an emphasis on the life skills that theatre cultivates, learn to apply the tools of a professional theatre practitioner through these invaluable personal and professional development opportunities.
Voice Acting
VIRTUAL | January 20 – February 24
The voice is a powerful communication tool. From audiobook reading to voice-over work, there is an entire industry designed around the actor's voice. Dive into this foundation-building sampler class that offers you insight into the how-tos. Play with the skill of breath control, diction, dialect, and character creation through voice in this fun-filled and informative class.
Registration Deadline: January 6
Time: Saturdays, 10:00am – 12:00pm
Tuition: $335
CRAFT
Embrace technique formally. Guided by specific theatrical points-of-view, these skill-building classes aim to focus creative energies and build on artistic intersection.
Actor's Tools
IN-PERSON | January 8 – April 8
This class invites students to identify, explore, and integrate each fundamental tool necessary for creating authentic characters and performing with others onstage. Activate the body, exercise the voice, engage the imagination, and increase your focus. Strengthen the ability to listen and respond authentically in performance, connect to impulse, and pursue necessary objectives resulting in conflict. This class culminates in a performance of scenes for an established professional for feedback. Memorization is expected.
Registration Deadline: January 1
Time: Mondays, 6:00pm – 7:30pm; NO CLASS January 15 or February 19
Tuition: $680
---
Gallery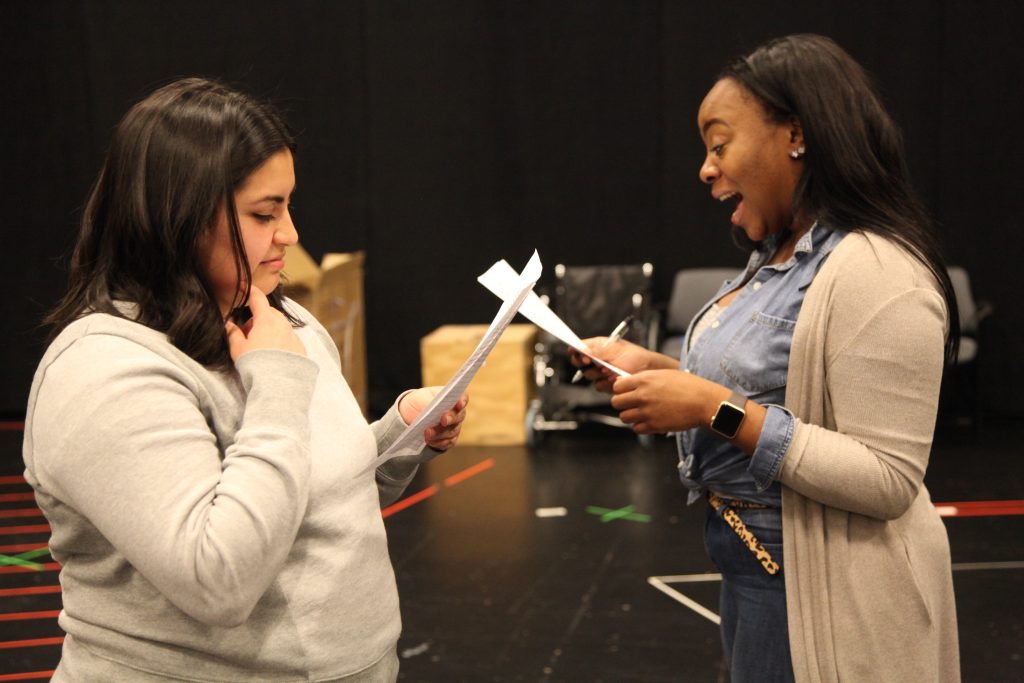 FAQs
Does Everyman offer payment plans?
Need-Based Scholarship Support
We encourage you to apply for a need-based scholarship by completing this FORM. While funding is limited, we work hard to accept as many students as possible throughout the year. Scholarship Applications can be submitted on a rolling basis.
Once I purchase a class, what is my next step?
Once a class is purchased, Everyman Theatre's Education Team will reach out with a Welcome email and Registration form at least one-week before the class starts. Please complete the registration form within three business days. 
I am unable to take a program I purchased, what is Everyman's education programs refund policy?
All class sales are final sale: This means there will be no refunds. No exceptions, unless one of the following applies:  
Withdrawal from a class: While we know that plans shift, we strive to provide exceptional service and programming for all students. This includes attendance for ensemble building. If you must withdraw, you will receive a credit that can be used towards any class in our current season. Class credits expire on June 30th, of any given season or school year. Be sure to use them before this date. 
Youth Summer Experiences: You are entitled to a partial refund of 50% of the class tuition if you withdraw at least one (1) month prior to the summer session's start date.  
Scholarship Recipients: Should you miss more than 3-class offering during any program offering your scholarship is awarded for, you will be removed from programming with no refund or class credit.
Which class is right for me and my artistic goals?
We pride ourselves on providing accessible pathways for students of all experience levels and interests.  
Look at our series descriptions below to see which is a right fit for you: 
EMPOWER
These are entry-level courses meant to serve as an access point for budding artists who are looking to build their knowledge in theatre. These courses will provide students with foundational skills in theatre as they begin or continue their artistic journey. If you have never been involved in theatre before or taken a course in acting, EMPOWER classes are a great place to start.  
LAB 
Lab classes are designed for students of any experience level to explore and develop specific skillsets. These classes often highlight specific theatrical disciplines (i.e., Voice Acting or Directing). Whether you are new to theatre or an experienced artist, these courses are a great way to build up your skillset and try something new!  
CRAFT
Classes in the Craft series are designed to provide students with formalized training, specifically focused on the skill of acting. While not required, these classes are intended for students with previous theatre experience or those who are looking to begin a career in theatre.  
To maximize the educational experience of all students involved: Craft classes require students to memorize text, rehearse on their own time, and commit to attendance of as many classes (as possible).  
The CRAFT series is on a pre-professional track; Our Education Team and your peers will appreciate your forward-thinking and commitment in planning accordingly.  
Will there be a final performance?
We strive to ensure all students receive the opportunity to end any class progression with a culminating event or performance. To this end, many of our adult students will be given the opportunity to perform their work, whether that be in class or in our rehearsal hall. All Performances, at the level, are at the sole discretion of our Teaching Artists. 
u003ch3u003eHave children that might like to get involved?u003c/h3u003ernWe have programming for them too!