We are proud to offer artistic skill-building for students as young as three and as old as ninety-nine! There is something for everyone at Everyman Theatre.

EARLY CHILDHOOD
Pre-K – K (Ages 3-5 years) | For our youngest artists, we excite the imagination, channel creative energy, and build social-emotional skills through dramatic play.
Creative Mates: Ages 3 – 5
OUTER SPACE ODYSSEY! | September 14 – October 19
Get ready to travel out of this world! Students will blast off into outer space through drama and visual art! Embracing the wonder and adventure of the stars, planets and extraterrestrial sites through this journey-driven class. The last class features is an open class where we welcome families into the space to see the highlights of our space travels. (First 15 mins are cool up time)
Registration Deadline: September 1
Time: Thursdays, 4:15pm – 5:15pm
Tuition: $190
YOUTH
K – Grade 8 | Dive into the world of a story. Embrace each class a part of a larger journey as students hone their actor's tools of body, voice, imagination, focus and heart!
Story Explorers: Grades K – 2
ENCHANTING TALES! | September 23 – October 28
The imagination is celebrated through an exploration of music, dance, drama, and visual art! Each class, start in an enchanted forest with new story paths to explore. Our adventures will take us deeper into magical kingdoms that celebrate collaboration. This class features a final sharing of highlights of their travels for family.
Registration Deadline: September 15
Time: Saturdays, 12:30pm – 1:30pm; No class September 30
Tuition: $200
Play Builders: Grades 3 – 5
THEATRE ESSENTIALS! | September 23 – November 11
In this unique class experience, students will explore the essentials of theatre! They will discover the foundations of theatrical skils, focusing on acting and design. Over the course of 8 weeks, students hone their acting skills, embrace storytelling, and share a small piece of theatre for their friends and family!
Registration Deadline: September 8
Time: Saturdays, 10:30am – 12:00pm; No class September 30
Tuition: $260
Theatre Makers: Grades 6 – 8
COMEDY CLUB (IMPROV) | September 16 – November 4
Calling all budding comedians! This fast-paced class invites creative risk-taking as students curate a witty improvised comedy show to perform for family and friends. With a special focus on sketch-comedy and improvisation games that cultivate core skills of the theatre-artist, students will deepen their appreciation for the diversity of the art form.
Registration Deadline: September 1
Time: Saturdays, 10:15am – 12:15pm; No class September 30
Tuition: $275
---
Photo Gallery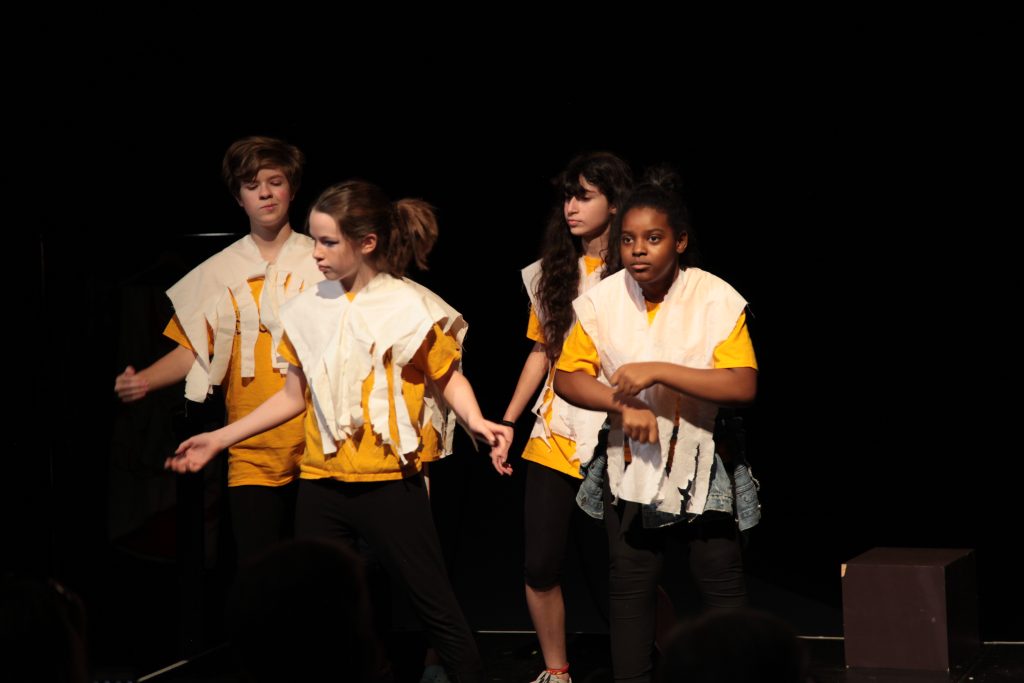 FAQs
Does Everyman offer financial assistance or scholarships?
Need-Based Scholarship Support
We encourage you to apply for a need-based scholarship by completing this FORM. Our need-based Creative Journey scholarship awards range to cover a portion of the tuition. While funding is limited, we work hard to accept as many students as possible throughout the year. Scholarship Applications can be submitted on a rolling basis.
When do I need to register for Fall Experiences?
Note that each Fall Experience description includes a registration deadline. We recommend you register as soon as possible to ensure your space, but the registration deadline is typically three weeks prior to the start of camp.
I purchased a Fall Experience. Now what?
After you purchasing, we will send an informational email full of goodies for you about the Fall Experiences one week prior to the first day and then again a few days before. 
Where can I learn about safety protocols for students?
Safety is always at the forefront of our decision-making. We update our safety policies by semester. To see our current guidelines, click here.
Have teens that might like to get involved?
We have programming for them, too!