We are proud to offer artistic skill-building for students as young as three and as old as ninety-nine! There is something for everyone at Everyman Theatre.
Browse below by age group!
EARLY CHILDHOOD
Creative Mates: Ages 3 – 5
PREHISTORIC TIMES! | April 6 – May 11
Calling all Dinosaur Lovers! Social-emotional learning meets dramatic play each week in these immersive 45-minute classes designed to introduce theatrical language and focus creative energy. Sensory play takes center stage as our rangers explore the land before time!
Time: Thursdays, 4:30 – 5:15pm
Tuition: $160

YOUTH
Story Explorers: Grades K – 2
TALL TALES! | April 15 – May 27
Get your story books and get ready to explore the worlds of Tall Tales! Embrace an appreciation for diverse artistic stories through this journey-driven class. The last class features a final sharing of highlights of our travels. *NO CLASS APRIL 29​*
Time: Saturdays, 12:30 – 1:30pm
Tuition: $175

Play Builders: Grades 3 – 5
MAGICAL WORLDS! | April 8 – June 10
Characters collide and worlds combine in this unique play-making experience. Students write and perform an original play to share with family and friends at the completion of 9 weeks. Special skill highlights include key design workshops along the way! *NO CLASS APRIL 29​*
Time: Saturdays, 10:30am – 12:00pm
Tuition: $260

Theatre Makers: Grades 6 – 8
ARTIST'S EXCHANGE | April 8 – June 10
Emerging artists embrace the world of the playwright, actor, and director in this unique theatrical experience. Utilizing different points of inspiration, students write and workshop through peer performance and guided feedback sessions. Finally, students have the opportunity to direct professional actors in the performance of monologues. There is a final sharing of work by the actors for family and friends as well as a talkback with the playwrights. *NO CLASS APRIL 29​*
Time: Saturdays, 10:15am – 12:15pm
Tuition: $500

---
Gallery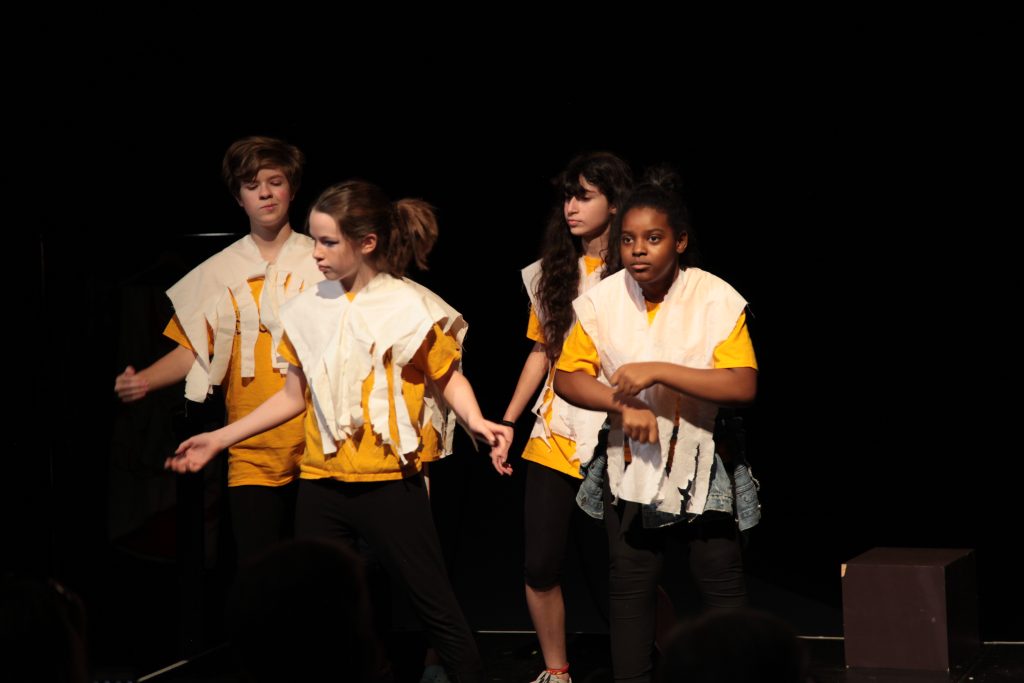 FAQs
How is Everyman Theatre Education ensuring affordability of Classes for All Ages?
Need-Based Scholarship Support
We encourage you to apply for a need-based scholarship by completing this FORM. While funding is limited, we work hard to accept as many students as possible throughout the year. Scholarship Applications can be submitted on a rolling basis.
Have teens that might like to get involved?
We have programming for them, too!