We are proud to offer artistic skill-building for students as young as three and as old as ninety-nine! There is something for everyone at Everyman Theatre.
Browse below by age group!
EARLY CHILDHOOD
Creative Mates: Ages 3 – 5
OUTER SPACE ODYSSEY | January 24 – February 28
Get ready to travel out of this world! Students will blast off into outer space through music, dance, drama, and visual art! Embracing the wonder and adventure of the stars, planets and extraterrestrial sites through this journey-driven class. The last class features a final sharing of highlights of our space travels.
Time: Tuesdays, 4:30 – 5:15pm | IN-PERSON
Tuition: $115

SUPERHERO ADVENTURES | January 26 – March 2
Superheroes unite through an exploration of music, dance, drama, and visual art! With a special focus on the hero within, students create their own original superheroes who band together for the ultimate journey. Complete with artistic challenges and stories as their guide, the last class features a final sharing of highlights of the lessons learned through their travels.

Time: Thursdays, 4:45 – 5:30pm | IN-PERSON
Tuition: $115

YOUTH
Story Explorers: Grades K – 2
FRACTURED FAIRYTALES | January 21 – February 25
Fairytale characters collide and worlds combine in this unique drama experience. The imagination is celebrated through an exploration of music, dance, drama, and visual art! In each class, students enter a new fairytale world. From fantastical kingdoms to enchanted forests, the story is the vehicle for each adventure but not everything is as it seems. This class features a final sharing of highlights of their story-based adventures.

Time: Saturdays, 12:30 – 1:30pm | IN-PERSON
Tuition: $125

DRAMA DETECTIVES | February 2 – March 9
Calling all sleuths to help us solve a storied mystery! Each week students will be immersed in mystery as they are introduced to theatrical language and the actor's tools. Creative drama takes center stage as young detectives gather clues each class and complete the ultimate artistic mission!

Time: Thursdays, 4:30 – 5:30pm | IN-PERSON
Tuition: $125

Play Builders: Grades 3 – 5
MONOLOGUE MADLIBS | January 31 – March 21
In this unique play-making experience, students write and perform their original work which culminates in a showcase to share with family and friends at the completion of 8 weeks. Focusing on the actor's tools and leaning into the devising process, they will write and perform their own monologues, learning how to score monologues for dynamic and nuanced performance. Special skill highlights include key design workshops along the way!

Time: Tuesdays, 4:15 – 5:45pm | IN-PERSON
Tuition: $175

Play Production: Grades 4 – 8
January 7 – March 26
Students enter the rehearsal process through an approach rooted in embracing rehearsal as the ultimate teaching tool. Utilizing the professional process as a guide, students develop an ensemble, are cast, and originate a role in a new play written specifically for their cohort. Unique to this experience are opportunities for students to flex their design muscles as they imagine key aspects of this production in a multi-purpose space. Memorization is expected in this program. The final performance is Sunday, March 26.
Time: (Jan 7 – Mar 4) Saturdays, 11:00 am – 1:00pm
(March 12 – 26) Sundays, 6:00pm – 9:00pm | IN-PERSON
Tuition: $565

Theatre Makers: Grades 6 – 8
COMEDY CLUB (IMPROV) | January 14 – March 4
Calling all middle school students who are interested in the art of comedy! This fast-paced class invites creative risk-taking as students curate a witty improvised comedy show to perform for family and friends. With a special focus on sketch-comedy and improvisation games that cultivate core skills of the theatre-artist, students will deepen their appreciation for the diversity of the art form.

Time: Saturdays, 10:30am – 12:00pm | IN-PERSON
Tuition: $185

---
Gallery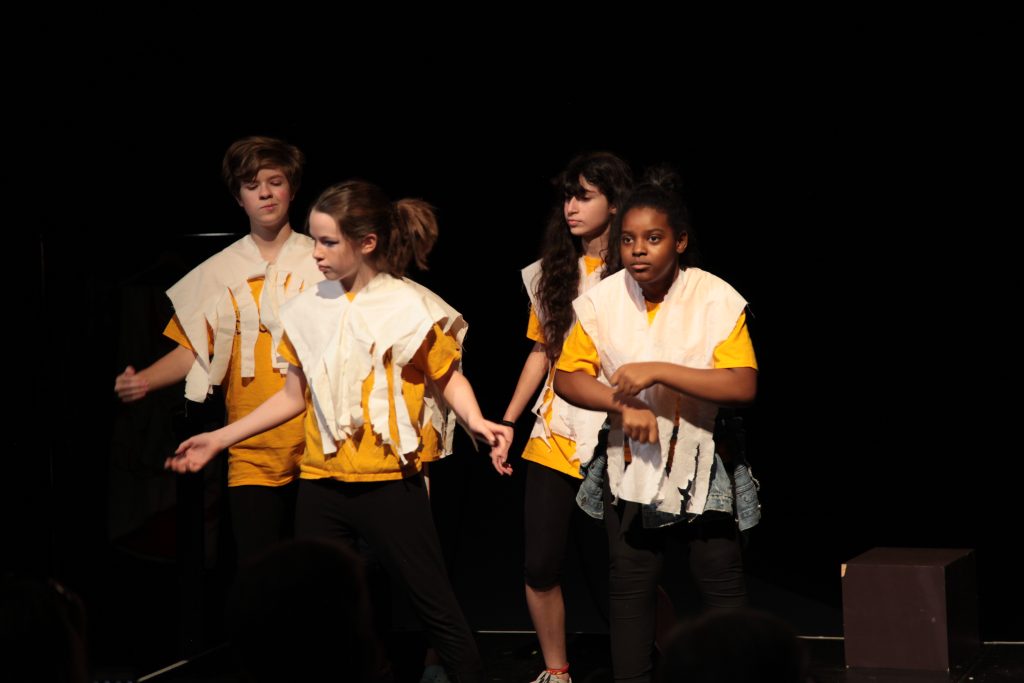 FAQs
How is Everyman Theatre Education ensuring affordability of Classes for All Ages?
Need-Based Scholarship Support
We encourage you to apply for a need-based scholarship by completing this FORM. While funding is limited, we work hard to accept as many students as possible throughout the year. Scholarship Applications can be submitted on a rolling basis.
Where can I learn about safety protocols for students?
These past two years have taught us to be nimble and responsive, always putting safety at the forefront of our decision-making. We update our safety policies by semester. To see our current guidelines, click here.
Have teens that might like to get involved?
We have programming for them, too!